The Arkscan 2054A, 2054K, 2054N & 3044C printers are compact, simple to operate, and offer the durability your business demands. You can create all types of labels, including 4 x 6 shipping labels and barcode labels, without using ink or cartridges. Please take a few moments to navigate these steps. They will guide you through setting up your Arkscan printer to best fit your needs.


&nbsp 1. How do I fix printing too small or too larger label from my shipping platform / website while I print sample shipping label from Arkscan.com perfectly fine?
This is most likely caused by printing an 8.5x11" Laser/Inkjet printer layout label instead of 4x6" layout label. Each platform's website or software usually has settings that can be changed to fix this. Please see our 'Platforms' page to see which settings need to be changed.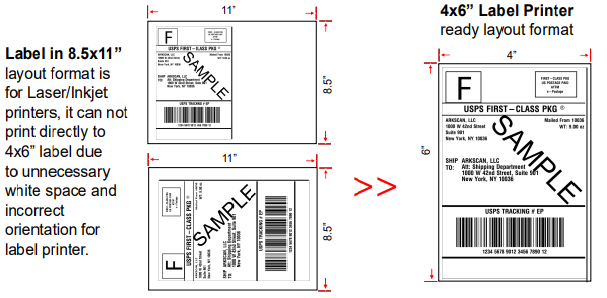 &nbsp 2. Why does it print on two pages while I just want to print one single 4x6" shipping label?
&nbsp 3. How do I fix a blank white spot or stripe in my print out?
&nbsp 4. Why am I printing blank labels?
&nbsp 5. My printer isn't recognized by my computer via USB connection, how do I fix it?
&nbsp 6. How do I print a shipping label from USPS.com, Mercari or any non-4x6" layout PDF file?
&nbsp 7. The printer doesn't print, and it shows 'pause' status under Printers & Scanners on Mac computer, how do I fix that?
&nbsp 8. How do I print Amazon FNSKU label?
&nbsp 9. How do I design my own label, like product label, UPC label & nutrition label?
&nbsp 10. Why does the printer print the front portion of the label, and the remaining portion is blank?
&nbsp 11. What types of labels can I use in the printer?
&nbsp 12. Update firmware by using Mac OS
&nbsp 13. Update firmware by using Windows
&nbsp 14. My printer pulls back the label when it prints
&nbsp 16. How can I adjust the Density/Darkness of my label print? - Windows
&nbsp 17. How can I adjust the Density/Darkness of my label print? - Mac